Grand Parade and Kiddie Parade
The Grand Parade has been the central feature or Railroad Day since 1939! And, back by popular demand, the Kiddie Parade kicks everything off.
Applications for the parade can be found here.
Questions? Contact our festival coordinator at emily@TrainMuseum.org.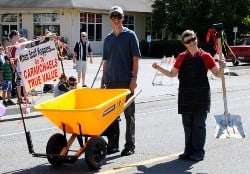 Each year, the Snoqualmie Railroad Days committee selects a community member to serve as Grand Marshal to head the annual Grand Parade. Grand Marshals are selected in recognition of their dedicated service to the community of Snoqualmie. in 2018, committee members selected Snoqualmie City Clerk, Jodi Warren, for the distinguished title. You can read about Jodi here.