Thank you to everyone who joined us for the 2017 Snoqualmie Railroad Days! See you next year.
Snoqualmie Railroad Days 
August 17-19, 2018

80 years of Trains, Timber, Traditions
What is Snoqualmie Railroad Days? 
Railroad Days is the annual community festival celebrating our spirit and origins as a railroad and logging town, and the home of the Snoqualmie Indian Tribe. The event is held in Historic Snoqualmie, in and around the Northwest Railway Museum. Volunteer firemen and their wives organized the first festival in 1938, and the popular event is still going strong.  Last year about 10,000 visitors attended the festival. 
A unique festival that strives to keep the "Trains, Timber, Tradition" encompassing the history of Snoqualmie alive. The event includes: Entertainment Stages, Vendors, a Grand Parade, Children's activity areas, Timber Sports Demonstrations, Food & Drink venues as well as the Fireman's Pancake Breakfast that started it all! Artisans display & sell their wares while the Legends Classic Car Club hosts hundreds of classic vehicles among the local services and businesses showcasing what they can do for you. Art in the Park, provided by the Snoqualmie Arts Commission, features Artists in Action and the Plein Air Paintout with artists from near and far, while also offering a Kid's Paint Junction for the younger set.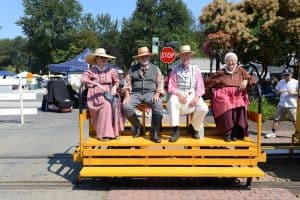 And of course, you can't have Railroad Days without trains. Host organization, The Northwest Railway Museum, offers railroad tours and Train Excursions that whisk you to the top of Snoqualmie Falls and beyond, for a panoramic view of the valley.  Snoqualmie Railroad Days is your community festival – one stop for family fun. You won't want to miss it!
Check us out on Facebook!

2017 Premier Engineer & Diesel Engineer
Level Sponsors: