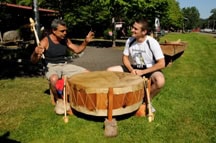 Railroad Days is the annual community festival celebrating our spirit and origins as a railroad and logging town, and the home of the Snoqualmie Indian Tribe. The event is held in Historic Snoqualmie, in and around the Northwest Railway Museum. Volunteer firemen and their wives organized the first festival in 1938, and the popular event is still going strong.  Last year about 10,000 visitors attended the festival.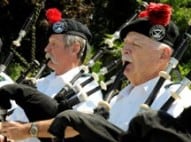 The 76th edition of Snoqualmie Railroad Days will feature traditional favorites:  Train Rides, the Grand Parade, Fun Runs, 3 stages packed with entertainment, the Legends Car Club Show and lots of vendors. Returning from last year are Art in the Park, featuring artists-in-action, the Plein Air Paintout, Children's Paintout, wine and beer gardens, Timbersports, amazing musicians, and free wagon rides. Snoqualmie Railroad Days is your community festival – one stop for family fun. You won't want to miss it!
NEW - 24 hours only - Please GiveBIG Tuesday, May 6, 2014
We're letting off a little steam (not blowing smoke!) by bringing a STEAM LOCOMOTIVE to operate at the Northwest Railway Museum during Snoqualmie Railroad Days, Aug 15–17, 2014. Contributions during GiveBIG 2014 will help make this happen! 
What's special about this year? This summer is the 125th anniversary of passenger train service to the Snoqualmie Valley. The inaugural run was a day trip from Seattle to Snoqualmie Falls July 4, 1889. Now, 125 years later, the Northwest Railway Museum continues the tradition of train excursions to Snoqualmie Falls. WOULDN'T YOU LOVE TO RIDE A TRAIN POWERED BY A STEAM LOCOMOTIVE to get a greater feel for that first run?
How do I donate? The Seattle Foundation's GiveBIG is a one-day online charitable giving event "to inspire people to give generously to nonprofit organizations who make our region a healthier and more vital place to live." For 24 hours only – from midnight to midnight PDT Tuesday, May 6 – The Seattle Foundation and its business partners will MATCH A SHARE OF EVERY DONATION made to the Northwest Railway Museum through the Online Giving Center. On Tuesday, Mary 6, 2014, go to: http://www.seattlefoundation.org/npos/Pages/NorthwestRailwayMuseum.aspx  and click the Donate Now button.
Your GiveBIG contribution will be applied to the costs of shipping the locomotive and purchasing fuel and lubricants. And not only that, with all we'll learn during this project, the Museum will be one step closer to developing and implementing a steam locomotive program at the Northwest Railway Museum!
When do I get to ride? So mark your calendars – twice! Please give generously on May 6, and then come ride the train Aug 15-17 during Railroad Days.

Past Platinum & Gold Sponsors: