Thank you to all of the sponsors and volunteers who made Railroad Days 2014 come to life!  For a look at some of the fun, check out the Railroad Days Facebook page.
2014 is a big year for the Snoqualmie Valley! This summer celebrated the 125th anniversary of passenger train service to the valley.  On July 4, 1889 the inaugural run was a day trip from the foot of Western Avenue in Seattle to Snoqualmie Falls. The excursion was operated by the ME Church Society over the lines of the Seattle, Lake Shore and Eastern Railway Company. Now, 125 years later, the Northwest Railway Museum continues the tradition of train excursions to Snoqualmie Falls.
Wouldn't you love to ride a Train powered by a Steam Locomotive to get a feel for that first run?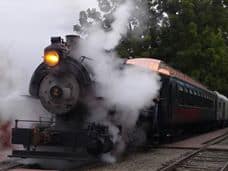 Visitors had the chance to ride the first steam train in the Snoqualmie Valley in 25 years on August 15, 16, & 17! During Railroad Days, the Santa Cruz and Portland Cement locomotive 2, a 1909-built Porter locomotive will let you step back in time to the early days of Snoqualmie. 
There are still more opportunities to ride on the steam train before the end of 2014! Steam Excursions are available on; October 4 & 5; October 25 & 26; and during the December 19 Santa Train runs. Advance Purchase Tickets are available for all of these!
What is Snoqualmie Railroad Days? 
Railroad Days is the annual community festival celebrating our spirit and origins as a railroad and logging town, and the home of the Snoqualmie Indian Tribe. The event is held in Historic Snoqualmie, in and around the Northwest Railway Museum. Volunteer firemen and their wives organized the first festival in 1938, and the popular event is still going strong.  Last year about 10,000 visitors attended the festival.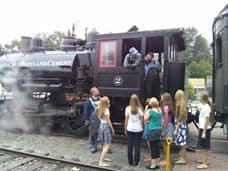 A unique festival that strives to keep the "Trains, Timber, Tradition" encompassing the history of Snoqualmie alive. The event has included: Entertainment Stages, Vendors, a Grand Parade, Children's Field of Fun, Timber Sports Demonstrations, Food & Drink venues as well as the Fireman's Pancake Breakfast that started it all! Artisans display & sell their wares while the Legends Classic Car Club hosts hundreds of classic vehicles among the local services and businesses showcasing what they can do for you. And of course, you can't have Railroad Days without trains. Host organization, The Northwest Railway Museum, offers railroad tours and Train Excursions, including a Steam Locomotive, that whisk you to the top of Snoqualmie Falls and beyond, for a panoramic view of the valley.  Snoqualmie Railroad Days is your community festival – one stop for family fun. You won't want to miss it!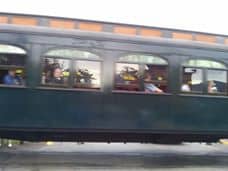 Check us out on Facebook!

2014 Conductor, Diesel Engineer & Steam Engineer
Level Sponsors: